How to Get Started in Consulting Series Part Three
posted: October 2nd, 2015
The Art of (Shameless) Self Promotion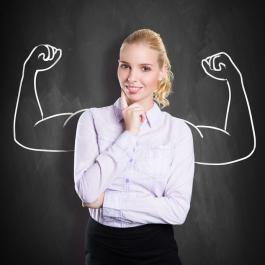 For corporate warriors who are taking a new path as consultants: welcome to the front lines of entrepreneurship, and prepare to learn the new rules of engagement.
Sure, you may have business savvy from accumulated years of corporate experience. You may have even worked in marketing. But as a boot-strapper, you'll quickly notice that you no longer have the use of conventional weapons such as marketing research and carpet-bombing advertising campaigns. No longer will you be able to simple turn to your marketing department for support... because you are now the marketing department.
Without the budgets behind you to support any large scale marketing offers, you'll need to learn the Art of Shameless Self Promotion. A little imagination and resourcefulness can go a long way in separating you from the pack and driving in business, so here are some proven, high ROI ways to effectively, simply and inexpensively reach new customers.
Business Identity
What's in a name? It's the basic foundation for the professional identity of your business. Doing business under your own name may be fine when you're just starting out and your first client is a former colleague or friend. But to branch out and be taken seriously generally requires a company name. JDC Group sounds better than Jane Doe Consulting, doesn't it?
A professional looking company logo for your business is the next cornerstone of your marketing. Used on your business card - often the first impression you make on a prospective client - as well as stationary, it shows clients that you are "real", rather than somebody who is between jobs and hoping to make a quick buck. To start without significant costs, you can insert your logo, if you wish, from several online print companies such as Vistaprint.Com.
Extend your company identity into a presentation template, and you have the very basics of marketing in place. If you're happy with getting all your work through personal networking, it may be all you'll need. But many consultants will want to do more, as the next section explains.
Collateral
Despite what we've all been told growing up, books are stil judged by their covers - and so are people and businesses, for better or worse. So maintaining a strong, professional image is important to make a great impression and draw in interest.
Use collateral as a tool to introduce your business philosophy, summarize your key services and reinforce key messaging. And don't be afraid to repeat your messaging throughout all the collateral pieces that you create for your business. Leaving behind copies of these pieces will be a reminder to clients who you are and what you can do for them, so keep them simple!
Remember, consistency is critical. If you have a logo, use it on your business card as well as on a brochure. Your potential client may be reviewing materials from many consultants, so be sure that your cards and brochures are easy to read, professional looking and memorable. When developing copy for your collateral, demonstrate your proficiency by keeping your key benefits visible and make sure your clients know how to contact you by phone, email, and the Web.
Website
Your website is one of the most important asset in today's digital age. It's more than your online business card and collateral - it's an opportunity to connect with your customers and make a solid first impression. Like anything else it produces, a business is judged by it's website. A sloppy, unorganized or unimaginative style with typos screams volumes about the kind of work a customer can expect from the business.
You should be intimately involved in envisioning or laying out your site, since it is ultimately a reflection of who you are. But when it comes to actually building it, if youare not already a Web designer, now is probably not the time to tackle this projectyourself, unless you have a lot of time on your hands and are a quick learner of new technology. Invest in a reliable Web designer, perhaps a hungry but competent freelancer to start, to make your ideas into reality.
This person can also counsel you on the basics of registering a domain and hosting a site, or you can find similar information online, such as in our previous article: Be Professional: Get an Internet Domain Name For Your Consulting Business athttp://www.womeninconsulting.org/consultants/articles/business-domain-name.html. And make sure you ask that she or he show you how to make updates to text yourself, after the site is up and running. This will save you on time and costs later for simple website changes.
In the design stage, there's always the temptation to go "big" with your website, to create a super-fancy site with flash animation and all those other bells and whistles. If you have the resources to develop and maintain a fancy website, then great – but don't underestimate simplicity in design. You can create an attractive, professional but bare-bones site, which is ultimately easier to maintain and update, and can always expand upon it as your business grows.
But even if you're not yet ready to put up a website now, you may want to stake your claim early on a domain name (also Internet address or URL), which ensures no one else will take the one you want. That also gives you a professional email address, such as JaneDoe@JDGGroup.com as opposed to sending business emails from a free Yahoo! or Hotmail account or the email address associated with your Internet service provider (or ISP).
Networking
Even with the best identity and collateral, your business will rarely sell itself – you need to get the word out. Undoubtedly, you have heard about networking as a highly successful – and fun! – marketing technique. But many people miss the point of this activity. The goal of networking isn't so much to turn all these people into customers, although that would sure be nice. Some people you will meet might never need or afford services such as those you offer. But these are still worthwhile contacts to keep, because they can refer others to you, and personal references are a powerful thing.
The goal of networking is to spread the word about what you do and how you can help to those who can be your advocates. So you don't need to be in deal-closing mode all the time – that's business development, not networking. Instead, a better strategy is to enjoy your time away from work, be yourself and just make friends. Networking establishes rapport and trust with others who might refer you, helping you develop ambassadors who understand your business and want to help introduce you to potential customers.
As a small business owner, you are in a unique position to engage in the most effective form of networking: developing one-on-one relationships and maintaining those relationships over time. That's because you not only represent your business...you *are* the business! So the personal relationships you develop are also potential business relationships.
Look for opportunities by talking to people in your existing personal network of friends and family, or attend and volunteer at professional groups related to your field of work, as discussed below.
Newsletters
If you don't have time to run from one happy-hour networking event to the next, another way to keep in touch with your network is to create a newsletter from your consulting practice. Newsletters remind your network of contacts that you are involved in business consulting and provide a way for you to position yourself as an expert and share successes and testimonials. They are one of the best ways to establish and maintain visibility as well as credibility.
The project of creating a newsletter can be as easy or as involved as you want. It can be as simple as an email or as sophisticated as an HTML template with graphics and photos. There are many vendors that provide self-serve email templates, database management and mailing processes to help you. And depending on how much time and content you have available, newsletters can go out monthly, every two months, quarterly or even just a couple times a year. The point here is to remind your key contacts, as often as you can, that you are busy and providing value to other companies.
Newsletters can take various forms. One idea is to share recent successes, news on your practice, new services and products you are offering in a friendly "letter" style. Another approach is to create a thought-leader perception by writing articles that you share with your list. Still another angle is to use content from various free syndication sites on the web or gain permission to re-publish an interesting article you have found.
Note: if you are creating digital newsletters, be aware of the regulations surrounding email marketing by reviewing CAN-SPAM rules. Two basic foundation rules: you must include your return address and a way to unsubscribe from your list.
Professional Affiliations
Another way to expand your network and accelerate business growth is through the industry people you associate with. Professional affiliations increase your visibility and network as well as establish your expertise. But faced with hundreds, if not thousands, of professional organizations and affiliations in any major population center, you need to strategically plan and carefully research your affiliation options to maximize your investment of time, energy and fees required. Then, you can effectively build relationships and demonstrate your expertise within those organizations.
To decide on an affiliation, consider where your potential clients, people who influence them, and your strategic partner candidates might congregate. Are they likely to join organizations focused on an industry (biomedical, healthcare, software development),their job (CPAs, COOs, non-profit development directors), community activities (Rotary, Chamber of Commerce), or affinity groups (entrepreneurs, alumni associations, women in business)? What types of affiliations do your successful competitors have?
After you have identified your marketing and networking targets and the organizations they are likely to belong to, investigate the associations that best fit your strategy and budget. Ask colleagues, current clients and partners about great organizations that fit your criteria, and don't forget to check the library and online. Attend a meeting or two before joining to confirm that the group indeed meets your expectations and needs for their focus and attendee profile.
Once you have identified the right organizations, plan how you will increase your visibility to potential clients and partners. Establish a strategy to meet and develop relationships with key influencers and clients for your business. Who do you want to include in your network to share referrals and business with? Solely attending meetings or events won't allow you to stand out from everyone else. Participate fully in the organization by speaking, writing, becoming part of the leadership or chairing an event.
As your business evolves, you may find that you need to change your affiliations, so keep current with what groups are out there as well as what you need and how to accomplish your goals.
Speaking Engagements
In a traditional advertising, networking or business development role, speaking gigs are a powerful way to build your brand awareness and credibility. But how do you get your first speaking engagement after hanging out your shingle?
The same advice we give our own clients is what works best here. What is your unique selling proposition? How are you different from other consultants in your field? To help this soul-searching, try creating a position paper that describes your unique approach to how you perform your consulting assignments
For some of you, you will have worked for a long line of blockbuster companies and your credibility will come from their success. For others, you may have specific expertise or a unique methodology. Or it could be proprietary research you have conducted on a topic that reinforces your approach to addressing client need. You may have been ambitious enough to write a book and have it published.
Once you've created your unique, proprietary content, it's time to approach the speaking venues. Some organizations are quite well organized and regularly post "call for papers" – by monitoring these organizations, you will identify when these opportunities present themselves. For other organizations, check out their websites for the people involved in organizing the speakers and contact them.
Make sure to tailor your topic abstract to the organization. For many speaking engagements, the focus is on business speakers rather than consultants, so consider bringing in a client for a joint presentation in case study format. For other types of venues, consultants are frequently used as moderators for panel discussions. In this case, it's helpful if you're an active board member of an industry association that is functionally affiliated with the topic being presented.
One of the easiest ways to get started is as a guest speaker or instructor for community college, university or university extension classes – from undergraduate to graduate level to professional development classes. Demonstrate your functional expertise and appropriate educational credentials for guest speaker gigs while it takes a little more work to prove yourself as a course instructor. The university must be interested in expanding their curriculum and perceive you to be the best instructor for the topic.
Now that you've created your content and lined up your first venue, it pays to practice. Work with a presentation coach to help you with your voice tonality, mannerisms and overall comfort level in front of crowds. And even for the most seasoned speaker, practice, ideally in front of a camera, so you can catch those distracting behaviors that could undermine your presentation. And last but not least, use your network – when you're confident that you're ready to go, start letting your world know
Conclusion
As the old marketing adage goes, "two-thirds of promotion is motion." The Art of Self-Promotion is not an event – it's an ongoing process. So take these tips as a starting point to launch your business. But use your creativity and resource fulness to keep your lean, mean, promotional machine in constant motion. A small act today might build the right momentum for you to become an unstoppable force tomorrow.